gameZfestival & gameZ&ruleZ
4.-6. november 2016
save the date!
The growing importance of game design for virtual and real-world contexts raises the question of structure and design of rules for game, play, art, technology and urban culture. The conference on "Gamez & ruleZ" at "Kunstraum Walcheturm" in Zurich, Switzerland, intends to explore and discuss these relationships from october 2 - 4, 2015.
Program: Friday, 2. October
| | |
| --- | --- |
| 10.30 | Opening of Conference |
| 11.00 | Keynote 1 – Carlo Fabricatore (United Kingdom): What are Game Mechanics? |
| 12.00 | Lunch |
| 13.00 | (Input) René Bauer: Zurich Game Mechanics Manifesto Glimpse |
| 13.30 | Staffan Björk (Sweden): Overview of Game Design Patterns |
| 14.30 | Wolfgang Walk (Grumpy Old Men): From MDA to DDE - necessary enhancements on a comandable Design Framework |
| 15.30 | Coffee |
| 16.00 | Renzo Thönen (Giants): Game Mechanics of the Farming Simulator |
| 17.00 | Mischa Geiser (Koboldgames): Guidance Systems for Journey of a Roach |
| 18.00 | Opening of exhibition "ruleZ for the magic circle" |
| 19.00 | [gameZFestival combined] Don Schmocker: FAR |
| 20.00 | [gameZFestival combined] Florian Faller, Adrian Stutz (Bits & Beasts): Feist |
| 22.00 | [gameZFestival combined] BigScreen Party Games witht Air Console! |

Program: Saturday, 3. October
| | |
| --- | --- |
| 09.30 | The Maze as Game Mechanic: Coffee in a topology of madness |
| 10.00 | Input & Panel: Reward and Punishment in Cities or what Game Designers think of Cities as Games |
| 11.00 | Annika Waern (Sweden): Game Mechanics of Pervasive Games |
| 12.30 | Guided Tour of exhibition with curators and game designers |
| 13.00 | Lunch |
| 14.30 | Keynote 2 – Jesper Juul (Denmark): The Art of Failure in Games. |
| 17.45 | [gameZfestival combined] Anja Fritsch (GameLab): Presentation of the creative card set "Ideas For Games" |
| 18.00 | [gameZfestival combined] Tabea Iseli, Jeremy Spillmann (Blindflug): Cloud Chasers |
| 20.00 | [gameZfestival combined] Luke Whittaker, Katherine Bidwell (State of Play Games, UK): Lumino City |
| 21.00 | [gameZfestival combined] Phillip Weber (CD Project Red, Poland): Quest Design for The Witcher |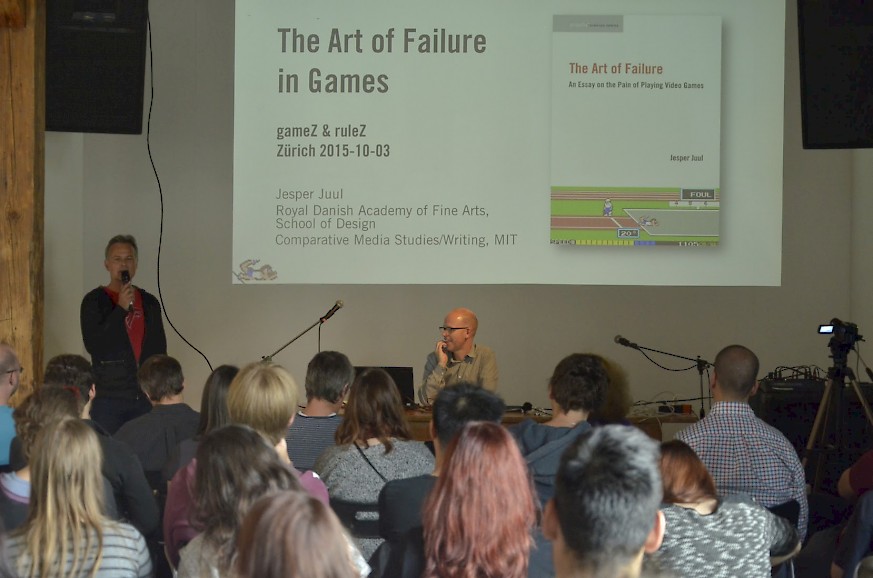 You can join the gameZfestival evening program.
Program: Sunday, 4. October
You can join the gameZfestival.
Exhibition: ruleZ for the magic circle [combined with gameZfestival]
| | |
| --- | --- |
| Friday, 2. Oct | Opening + 18:00 - 24.00 |
| Saturday, 3. Oct | 10:00 - 24.00 |
| Sunday, 4. Oct | 12:00 - 19.00 |
Highlights: Ideas for Game (Game Creation Set), TennisForTwo(thousand), LSD (Logic Dream Simulator), Installation "Magic Circles" [...]
Games are control systems that are exceptionally motivating. From simple motivational techniques such as clearing or aligning game designers develop cybernetic control systems (such as Tetris) that are gradually getting more complex. The simplest and most complete control system in game mechanics is the continual challenge for the player and his avatar. The game provides the player with a specific challenge: In Tetris falling blocks and overflowing containers. And it offers opportunities for action to tackle the problem. In Tetris you can move and rotate the blocks. In a next step the game evaluates the player's decision. The game rewards correct decisions. In Tetris a line disappears, you get positive sound, points and more playtime. However the game punishes wrong decisions. In Tetris you get an obstructed situation, gloomy sounds, and game over. As a player, if you are perfectly challenged, conservatively punished and well rewarded you may feel like floating through the game (Flow, Csíkszentmihályi/Scheurer).
But games not only differentiate short-term game mechanics (micro mechanics), they also define a long-term game mechanism (macro mechanics). This macro game mechanics motivates for hours, if not for days or weeks. This is where progression strategy or narrative strategies are often used. It can be in form of new (visual) worlds as in games like Tearaway, LSD Logic Dream Simulator or Lumino City; in form of new challenges (new elements in Chips Challenge, further level development in Ikaruga or Feist and change in game mechanics); in form of superior comparison (high score); and/or story as in The Witcher, Lumino City and The Last of Us.
By accepting and processing these rules on the computer and via commitment and interaction of the player, the game and its world become a magical reality. This new reality forms a magic circle where only the rules of the game apply (Huizinga). In this circle it is possible to fly (REZ), to save your cities from nuclear missiles (Missile Command), to destroy worlds (Ikaruga), or to color worlds (Wizball) – and you can even rise from the dead (Golden Axe).
It remains uncertain though if the player acquires the rules that were designed for him. The question remains: Does the player encounter the intended game experience or does he awaken entirely different mechanisms to life as in games like FAR and LSD Logic Dream Simulator?
Download Exhibition-Description & Gamography (10MB) >
Fee
Free exhibition & talks. Feel free to come and discuss.
Contact
Twitter: @gamelabch
Twitter Hash: #gamezandrulez
Phone: 079 364 33 72
Email: info@gamezandrulez.ch
Organisation
October 2 - 4, 2015, International Conference "Gamez & ruleZ" at Kunstraum Walcheturm Zurich, Switzerland, organized by the management of the Game Lab, Beat Suter and Renè Bauer and the master's program Game Design, Mela Kocher; along with game design master students at the Zurich University of Arts, Department of Design (ZHdK).